All four wheels on this Honda were fully refurbished. The damage was minimal but rust patches and paint flake was consistent over the surface.
The effected areas are sanded and rubbed down ready for priming with undercoat.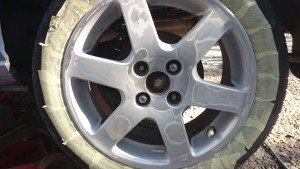 The wheel is then sprayed with silver and lacquered. We use high quality 2K lacquer that is durable, ideal for the abuse roads give to wheels.