Bumper Repair Plymouth – Operating Around Surrounding Areas
SMARTER CARS is a mobile car body repair specialist. The 'SMART' stands for 'Small Medium Area Repair Techniques'
We operate in Plymouth and its surrounding areas, specialising in bumper repair – including the plastic ones.
This system has actually been out for quite some time, though it's more recognised further up the line. Many people think a scuff to their bumper is going to be expensive and time consuming. If you take it to a garage to be repaired, then it probably is! A spray bay often have to replace whole bumpers, fit new trims and spray the whole lot again. This could also leave you without a car for a few days. Also the colour may not be a good match, not because the spray bay got it wrong, but because car paints can fade, especially solid colours such as red. This means the red paint being put on which is 'new' will be much redder then your wing it comes up to which has gone slightly pink-ish over the years. Though it is the correct colour for the car, this is obviously undesirable.
SMART repairs don't have any of these issues, because firstly the damage to the bumper is repaired, not replaced. Secondly we mix up our own paint using the different colours mixed together which comes from the cars paint code. This way the colour can actually be tweaked to match the 'actual' colour of the car. The SMART system uses a smaller spray gun then a spray bay and this means we can blend in colours too. Most repairs can be accomplished easily in one day and as we are mobile we come to you. It can be at home, or a work place as long as there is an area where we can work and electricity supplied (we have our own extension cables). A repair can take place almost anywhere that's convenient for you.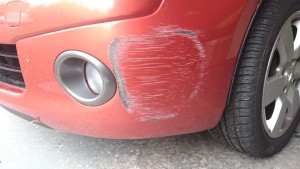 This is a typical SMART repair, it was repaired at a persons home at their convenience.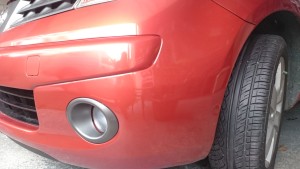 The paint is a perfect match and lacquer is blended out using special fade out materials.
As a result of a SMART repair the cost will be much less, and often cheaper than your car insurance excess. So you can keep hold of your no claims bonus. We charge no VAT and give free quotes which in most cases can be given over the 'phone.
All of our work is guaranteed for life so in the unlikely event that you have problems don't hesitate to call us.
So, in summary :-
Mobile – we come to you
Free quotes
No VAT
Prices usually cheaper then car insurance excess
Repair guaranteed for life
See an example of a repair Here
Some of our work is posted on our website, Facebook page and Twitter, so feel free to take a peek at some of our repairs, this can give you a good idea of what we can do!