Many alloy wheels can be repaired by keeping the repair area local. However, there does come a time when a wheel is so badly scuffed all around that its easier to refurbish the whole wheel. In this example the wheel had certainly seen better days.
The wheel is cleaned up and rubbed down with the scuffs being sanded out, sometime a little filler is added to the worst scuffs.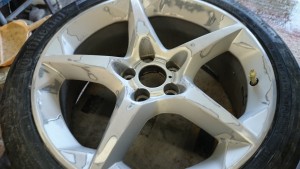 Next the wheel is primed and rubbed down a few times, this removes any scratches and blemishes. Eventually the wheel will be ready for a colour coat.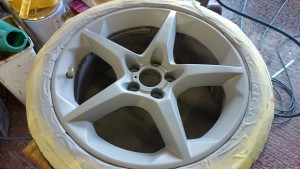 Once the colour has been sprayed on and inspected from all angles the lacquer is sprayed on.  This will be a high quality 2k lacquer to help give the wheel a high quality shine with decent depth.